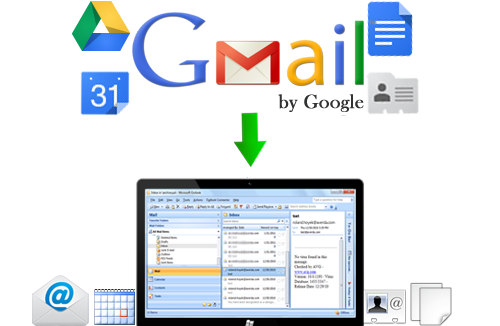 Gmail

Backup Tool
Backup Your Gmail Account To Hard Drive
Gmail backup tool can simply download email, Contacts, chats, Drive (documents) and Calendar from Google user account to hard drive.
Save all emails from Gmail to PST/MSG (Outlook) or EML (Outlook Express, Windows Live Mail), MBOX (Thunderbird) file format that can be read and accessed with the Outlook email client, even when the network connectivity is limited or lost.
Read Pre-Requirement Instruction

Benefits of Gmail Backup Software
Download Email, Contacts, Calender & Drive
Download all email, Contacts, Calendar, chats & Drive data from Gmail account to local hard drive and data access guaranteed at any point of time.
Export Gmail Emails To PST, EML, MBOX, MSG
User can export all Google emails data to PST, MBOX, MSG or EML is suggested by experts, as PST can be accessed with Outlook that will be available with Windows OS.
Backup Google Contacts & Calendar
All Google Contacts & Calendar can be downloaded in vCard and ICS file format respectively.
Backup Google Contacts Drive
User can download all docs (documents, spreadsheets, presentations), file, images from Google Drive in MS Office & other format.
Three Reasons to Create Backup of Gmail: Yes This is Applicable to You
Gmail account is prone to hacking and if it happens to your account, you can go and deactivate your account immediately if you create Gmail emails backup in advance.
Backup of Gmail available in PST will be helpful in retrieving the crucial emails if you accidentally or with or without any particular reason deleted emails from your account.
Export all email from Gmail to a local storage device so that even if Gmail server face downtime then also your working environment will not be affected as you have the data in PST format in hard drive safely.
Free Version to See How Easy It Is To Create Backup of Gmail
With the best deal ever, Backup tool for Gmail free version provides user with the facility to create email backup of Gmail by selecting first 100 emails & 25 other category items for free to Outlook PST. With the easiness of working and experiencing process to export all email from Gmail to local storage device selected, user can get confidence to purchase full version of Gmail emails backup tool.
Fully Activated of the Software
Without limitation of number of email, contacts, calendar & document and without sign of data loss or technical complications, user can create Gmail email backup to PST, MBOX & EML and convert, migrate, transfer, move, export gmail mailbox to PST Outlook or EML Outlook Express file format, by purchasing the full version of Gmail Backup Tool for nominal rate.
Client Reviews
Backup Tool For Gmail – Gmail emails exported to PST, and it is available as backup in my PS desktop, all this stuff was totally out of my head when I was planning to take the backup of my Gmail account. One of my friends told me there are chances of Gmail account being hacked and then it is better to deactivate account as fast as possible and as a precaution step we should be ready with our email backup. To export all email from Gmail to local storage device, I used Gmail emails Backup Tool and I found it very easy and effective to use.