Export Gmail Messages To Outlook PST In Few Easy Steps
Export Gmail Messages to Outlook PST in the following steps:


Step 1: Install and run Gmail backup software.
Step 2: After installing the software a window will appear and then click the backup button on top.
Step 3: In the next step you can decide the location to save Gmail messages after filling the account details such as username & password of Gmail account. Once filling the entire detail click browse button.
Step 4: If users want to save messages in the PST file format or EML file format, then the user can choose the option to save them in any desired format.
Step 5: Amongst the full backup and date based backup, user can choose any backup mode according to their need in this step.
Step 6: To start the backup process the only need of the user is click the start backup button. User can check out the progress information if they want to and even stop the process of backup by clicking stop button.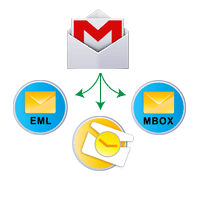 By following the above mentioned steps users can create the backup for their Gmail account and preserve their account emails from permanent data loss. This Gmail Backup software is tilted as one of the best software among all the application available in the online software market. By just spending pocket friendly amount users can export Gmail messages to Outlook PST or EML file format smoothly & save Gmail messages to any external drive like hard drive, pen drive,etc and enjoy all the features of the software such as: